Horse riders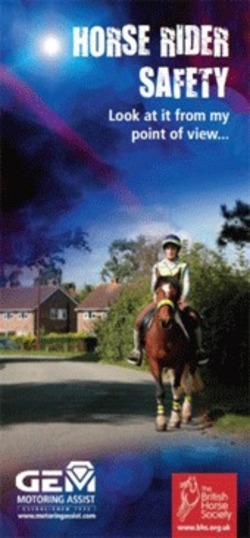 Title: Horse Rider Safety (leaflet)
Organisation: GEM Motoring Assist & British Horse Society
Date uploaded: 13th March 2013
Date published/launched: February 2013
This leaflet contains safety information for horse riders and for drivers of vehicles who encounter horses on the road.
Almost 10% of reported road incidents involving horses in 2012 resulted in a horse fatality and 7% resulted in serious injury to the rider.

To help combat these statistics, GEM Motoring Assist has published this 'Horse Rider Safety' leaflet in conjunction with The British Horse Society.

For horse riders the leaflet covers issues including hand signals and the importance of fluorescent leg wraps.

For motorists, it advises on appropriate speed, the nature of horses as 'flight' animals, and the dangers of sudden movement and noise.
For more information contact:
GEM Motoring Assist
T: 0845 3700 940
External links:
Help Forum posts