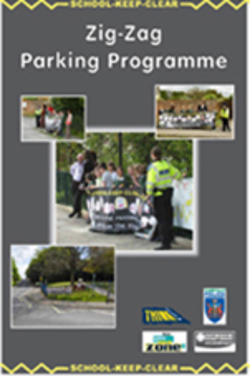 ---
Organisation: Oxfordshire County Council
Date uploaded: 22nd July 2010
Date published/launched: January 2010
---
Oxfordshire's road safety and travel behaviour teams, in partnership with Thames Valley Police, have put together a programme to help schools address the issue of Zig Zag parking.
A number of schools across Oxfordshire experience inappropriate parental parking on the Keep Clear 'Zig-Zags' outside the school at the beginning and the end of the school day.This programme provides schools with a step-by-step guide to help them undertake a roadside event to raise awareness of this issue.
Additional follow on activities are also included to prolong the impact of the event and effect a cultural and behavioural change whereby parking on the 'Zig-Zag' lines becomes unacceptable.
The programme can provide a number of learning opportunities for young people including team working and research and communication, and can also provide them with the opportunity to take responsibility and contribute to the organisation of activities.
One element of the programme encourages 'STARS' (School Travel and Road Safety) pupils to organise and be involved in a roadside event. This enables them to communicate to the local community how they feel about the issue.
The programme is copyright free and Oxfordshire's road safety and travel behaviour teams are happy for people to use it, reproduce it or change/adapt it as they wish to suit their own particular circumstances. All they ask is that Oxfordshire County Council and Thames Valley Police should be credited.
For more information contact:
Mandy Rigault
T: 01865 343167