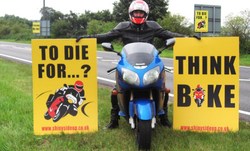 ---
Organisation: Shiny Side Up Partnership
Date uploaded: 15th July 2007
Date published/launched: Pre 2009
---
The Shiny Side Up Partnership is working to reduce the number of sports bikers involved in crashes on our roads.
The Partnership wants to ensure that sports bikers continue to enjoy their riding and keep their bikes shiny side up and the rubber firmly on the road!
Based in the East Midlands, the partnership comprises a group of professionals from road safety, accident investigation and police traffic management teams. In recent years the partnership has benefited from the support of the Highways Agency.
Sports bikers in Derbyshire, Leicestershire, Nottinghamshire, the north west and using trunk roads in England are the focus of the campaign.
The name Shiny Side Up was chosen to reflect the bikers' saying 'keep your shiny side up' – implying that the rubber side should stay firmly on the road!
The campaign supports and understands the amazing bond between rider and machine and, via its website, informs riders where and why fatal and serious crashes occur.
Shiny Side Up signs, which carry messages to inform both rider and driver, are placed on routes which are known 'hotspots' for biker crashes. These signs and their messages are well-recognised and have helped to reduce casualties on the routes concerned.
The campaign also includes reports on riders' attitudes, short films and adverts which spell out the main dangers they face.
For more information contact:
Sheila Ormerod
T: 01623 631641
External links: